Bengaluru FC lost the first leg of the ISL semi-final to Northeast United FC 2-1 at the latter's home ground. In the reverse fixture, they knew that a victory would do the trick and they completed the task.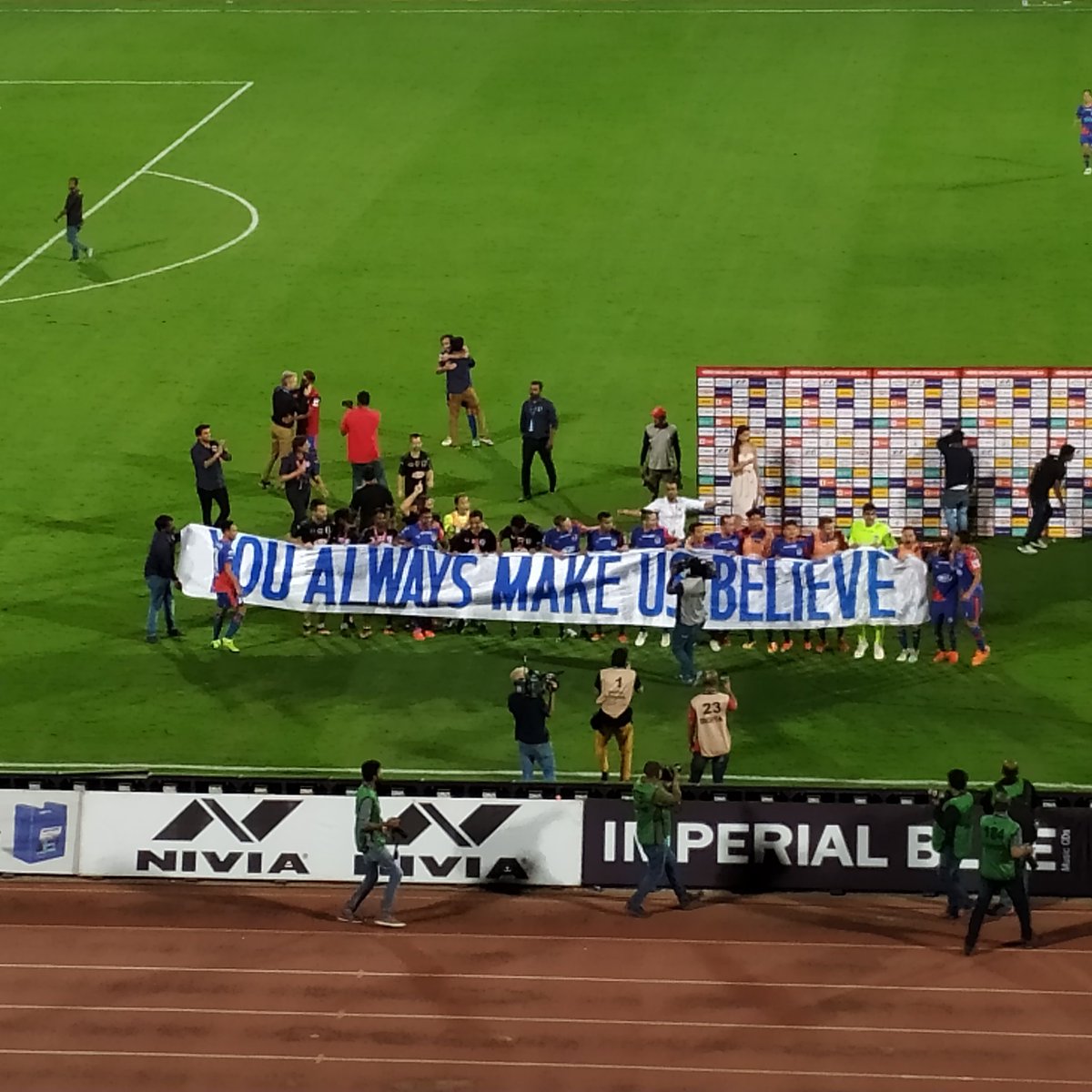 Bengaluru FC's Miku missed a lot of chances in the first half but the side was taking no prisoners in the second half. The Venezuelan broke the deadlock in the 72nd minute after latching on to Udanta Singh's pass and, Dimas Delgado doubled the lead fifteen minutes later after pouncing on the rebound which hit the post.
Captain Sunil Chhetri completed the formality by writing his name in the scoresheet through a brilliant solo effort in the dying embers of the game to win the game 4-2 on aggregate.
Twitteratis congratulated Bengaluru FC for their brilliant comeback victory against Northeast United FC. Here is the quirkiest of the lot:
Well played @NEUtdFC but @bengalurufc today is your day! What a night for the blues! Who will be joining #BFC at this years @IndSuperLeague final and taking home this trophy??@StarSportsIndia @IndSuperLeague #Bangalore #bfc #NorthEast #neufc #bengalurufc #LetsFootball #BENNEU pic.twitter.com/9Q8u2zp2Vs

— Eisha Acton (@EishaMeganActon) March 11, 2019
THIS IS BFC! THIS IS BENGALURU AHOOOOOO AHOOOOO AHOOOO – see you in Mumbai! @bengalurufc

— Parth Jindal (@ParthJindal11) March 11, 2019
.@ESchattorie in the press conference: "Third goal was offside."

Don't think it was. pic.twitter.com/g2v01EdAly

— /r/IndianFootball (@rIndianFootball) March 11, 2019
Que Sera Sera,
whatever will be will be,
we are going to Andheri,
Que Sera Sera. @bengalurufc @IndSuperLeague @WestBlockBlues #BENNEU

— Sharan A Kukreja (@SharanKukreja) March 11, 2019
Such a heartbreaking game. Incredibly proud of how our boys fought with their whole soul despite all the injuries – shows their incredible character. My heart goes out to Gallego who has sustained multiple fractures. @NEUtdFC #NEUFC #StrongerTogether #United

— John Abraham (@TheJohnAbraham) March 11, 2019
While we celebrate the magic at the fortress, let's not forget that @NEUtdFC 's Gallego had to suffer Multiple fractures in his shin bone. Nobody deserves that. Sending the positive thoughts your way from all of us at @WestBlockBlues. Get well soon champ. #BENNEU @ESchattorie

— Waseem Ahmed ವಸೀಮ್ ಅಹ್ಮದ್ 🇮🇳 (@Waseem_Ahmed11) March 11, 2019
Amazing atmosphere @WestBlockBlues @bengalurufc ❤ #BENNEU #bengalurufc pic.twitter.com/WHNG16hGLU

— Amit I K (@Amit_I_K) March 11, 2019
@NEUtdFC finally get to taste Bengaluru's toot Vada after getting themselves Bangalored 😂#Bengalurufc #BFC #BENNEU #WeAreBFC pic.twitter.com/d43MZiIKFw

— Chandan (@PieceOfCaake_) March 11, 2019
Current situation of north east 😂 #BENNEU #WeAreBFC #Bengalurufc pic.twitter.com/oNUT444Rwu

— Chandan (@PieceOfCaake_) March 11, 2019
What a team this @bengalurufc is turning out to be! Two seasons, two finals! Let's go and WIN 🏆 🔥⚽ #BENNEU #Bengaluru #BengaluruFC #WeAreBFC #Finals #ISL #ISLMoments #BestClub #Champions 🏆🏆🏆

— Mandeep Bhatia (@mannydevil2508) March 11, 2019
Goosebumps! @bengalurufc proving from time to time why they are the best in the business. Can't be a more proud moment than this right now. Breaking into the semis & now into the finals. Growing old with the club has been the best thing ever for me. #Bengalurufc #BENNEU

— Prithiv Chandar (@Prithivchandar) March 11, 2019
Well played @NEUtdFC but @bengalurufc today is your day! What a night for the blues! Who will be joining #BFC at this years @IndSuperLeague final and taking home this trophy??@StarSportsIndia @IndSuperLeague #Bangalore #bfc #NorthEast #neufc #bengalurufc #LetsFootball #BENNEU pic.twitter.com/9Q8u2zp2Vs

— Eisha Acton (@EishaMeganActon) March 11, 2019
Thank you @ESchattorie and the whole @NEUtdFC squad for making us proud, We'll come back stronger next year.

Played the away game without 2 main strikers and main midfielder. And dominated #BengaluruFC till 72th minute.👏💓#BENNEU

— viƎws from the 7⃣ (@seven_bound) March 11, 2019
@bengalurufc what a match. @chetrisunil11 🙏🏻🙏🏻
I wish football gets bigger and better in India. #bengalurufc #football #semifinals

— Pallavi bhargava (@pallavi006) March 11, 2019
@bengalurufc absolutely dominated Northeast United FC and enter their second consecutive Indian Super League finals. We are ready for the finals!
ಮತ್ತೋಮೆ ಫೈನಲ್ ಕದನಕ್ಕೆ ಸಿದ್ದ!
Come on BFC💙#HeroISL #Mattomme #WeAreBFC #BengaluruFC pic.twitter.com/FxbfyapIbV

— Sai Krishna (@imSkrishnaaa) March 11, 2019
#Bengalurufc we are in the finals it won't be like last season we will definitely champions meet on 17/03/2019

— ravishankar.k (@ravishankark3) March 11, 2019
Monday Blues ?
Nah, Blues's Monday 💓#BengaluruFC #WestBlockBlues @VishnoW @vijayan04 @sriram_madhavan pic.twitter.com/5VfVWCPlRX

— Shashank Suresh (@naanobba_kalla) March 11, 2019
All my thoughts and prayers with Federico Gallego. He's been a treat to watch all season, and it was so hard to see that tonight. We're all praying for you, champion. https://t.co/JVTEnyj5y3

— Aaditya Narayan (@Aaditya_LFC) March 11, 2019