Leicester City's owner Vichai Srivaddhanaprabha died in the helicopter crash which happened just outside King Power Stadium on Saturday after the match between Leicester City and West Ham United in the Premier League.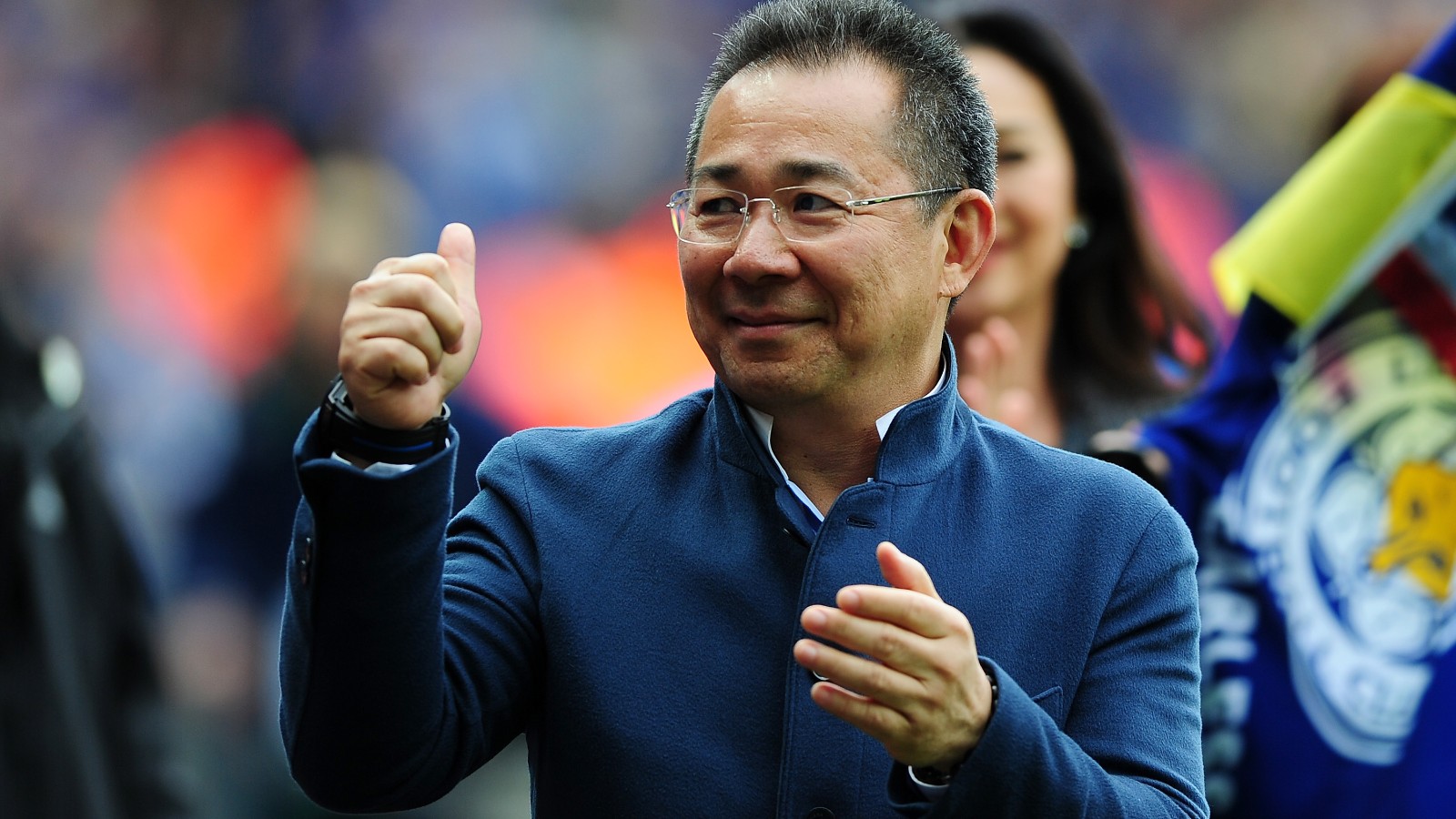 Leicester City's official statement confirmed the tragic news of Vichai Srivaddhanaprabha's and four other fellow passengers' death in the helicopter crash.
Leicester City's match against Southampton in Carabao Cup and the development squad's match against Feyenoord have been postponed after this tragedy occurred on Saturday.
The football world which includes fans from various clubs, the club authorities and athletes have sent their condolences over social media.
On that note, let's take a look at how the Twitterati expressed their sadness:
— Leicester City (@LCFC) October 28, 2018
Struggling to find the right words….but to me you are legend, an incredible man who had the biggest heart, the soul of Leicester City Football Club. Thank you for everything you did for… https://t.co/FzTaXVejUg

— Jamie Vardy (@vardy7) October 28, 2018
Leicester City have confirmed chairman Vichai Srivaddhanaprabha was among five people killed in a helicopter crash on Saturday night: https://t.co/IiFRRuiH55 pic.twitter.com/Ss0BhL0njE

— Sky Sports News (@SkySportsNews) October 28, 2018
The latest developments as Leicester City confirm owner Vichai Srivaddhanaprabha was among five people killed in Saturday's helicopter crash: https://t.co/7jya8Xs1IJ pic.twitter.com/qtySrDRXCy

— Sky Sports News (@SkySportsNews) October 28, 2018
Aerial footage has revealed the wreckage of the helicopter crash outside Leicester City football stadium.

It's understood club owner Vichai Srivaddhanaprabha was on board.

For the latest on the story, head here: https://t.co/NiwFkkUeLK pic.twitter.com/nmufaohTp4

— Sky News (@SkyNews) October 28, 2018
Sunrise at the King Power stadium. The morning after Leicester City's darkest day, and the blanket of floral tributes continues to grow here after the death of owner Vichai Srivaddhanaprabha & 4 others in a helicopter crash was confirmed last night pic.twitter.com/gRxx7Gl2nH

— Dan Roan (@danroan) October 29, 2018
UEFA & European football is deeply saddened to hear of the tragic deaths of Vichai Srivaddhanaprabha & the other four people who lost their lives. Our sincerest condolences to all the families and friends, and to @LCFC https://t.co/75RCALD6c0

— UEFA (@UEFA) October 29, 2018
He cleared Leicester's debts of £100m

He donated £1m to Leicester University, £1m to Leicester Royal Infirmary & £2m towards a new hospital

He helped Leicester to a 5000/1 Premier League title.

He united the entire city

RIP Vichai Srivaddhanaprabha. 🙏 https://t.co/Eu0r7HUdbg

— SPORTbible (@sportbible) October 29, 2018
"The world has lost a great man."

Tributes pour in for Leicester City soccer club owner Vichai Srivaddhanaprabha. The Thai billionaire's helicopter crashed as it was taking off from King Power Stadium #วิชัยศรีวัฒนประภา #เลสเตอร์ซิตี้ pic.twitter.com/1yfq3FiXQT

— TicToc by Bloomberg (@tictoc) October 29, 2018
Aiyawatt and Aimon, the son and wife of Leicester City's chairman Vichai Srivaddhanaprabha, lay a wreath at the King Power Stadium.

Leicester City confirm owner Vichai Srivaddhanaprabha was among five people killed in Saturday's helicopter crash: https://t.co/A2ktbcH0jm pic.twitter.com/oZwyWGRgyL

— Sky Sports News (@SkySportsNews) October 29, 2018
Everybody at Chelsea Football Club is deeply shocked and saddened to learn of the death of five people at Leicester City on Saturday, including the club's chairman, Vichai Srivaddhanaprabha.

Our thoughts at this sad time are with all those affected. https://t.co/bHmIuHgXiS

— Chelsea FC (@ChelseaFC) October 28, 2018
One of the most powerful images I've ever seen. As a non Leicester fan Vichai Srivaddhanaprabha had me fully converted for about six months believing in the dream. As football fans we'll never see anything like that again. Awful awful tragedy. 🦊 💙 pic.twitter.com/ZxTmmCSaXf

— Smig (@Smiggy) October 28, 2018
We would like to send our sincere condolences to the family of Vichai Srivaddhanaprabha and to the other families affected at this sad and tragic time.https://t.co/zefq12ngU4

— West Ham United (@WestHamUtd) October 28, 2018
Everyone at #MUFC is deeply saddened to learn that the Leicester City chairman and four fellow passengers have lost their lives following last night's tragic incident. Our deepest condolences are with their families, friends and those connected to the club.

— Manchester United (@ManUtd) October 28, 2018
Everyone at #CPFC would like to send our deepest sympathy to the family of Vichai Srivaddhanaprabha, all @LCFC and the families affected by the tragic circumstances of Saturday evening. pic.twitter.com/iFFTplf90q

— Crystal Palace F.C. (@CPFC) October 28, 2018
Liverpool Football Club statement: https://t.co/0nEHs4qz4A pic.twitter.com/TJS0YUxQXR

— Liverpool FC (@LFC) October 28, 2018
We're thinking of you, @LCFC ❤

Our deepest condolences are with the loved ones of those who have so tragically lost their lives, and everyone at #LCFC

— Arsenal FC (@Arsenal) October 28, 2018
💙 | Evertonians are united today with the entire football family in directing our thoughts and prayers to the loved ones of @LCFC chairman Vichai Srivaddhanaprabha & those who also passed away last night in the tragic accident at the King Power Stadium.https://t.co/euHPG30kWd pic.twitter.com/BfPFbGliny

— Everton (@Everton) October 28, 2018
— Kasper Schmeichel (@kschmeichel1) October 28, 2018
Words can't describe how I feel. A truly great, kind, loving man who will be missed so much by everyone.

I will never forget the Chairman's support, not only during my time @LCFC but also during the World Cup 😢 RIP ❤ #TheBoss pic.twitter.com/66aGjGGwX9

— Harry Maguire (@HarryMaguire93) October 28, 2018
Heartbreaking scenes as family of Vichai Srivaddhanaprabha lay wreath outside the King Power stadium pic.twitter.com/igmtibP4eb

— Martin Fricker (@martinfricker) October 29, 2018
— Wes Morgan (@Wes5L1nk) October 28, 2018
Deeply saddened to hear the confirmation that lcfc chairman, Vichai Srivaddhanaprabha was one of 5 people to lose their lives in the helicopter crash on Saturday evening. A quiet,… https://t.co/FeTlx2ldq8

— Gary Lineker (@GaryLineker) October 29, 2018
This man lost his wife and two sons in the Leicester explosion earlier in the year. Vichai Srivaddhanaprabha helped him through that time. This is all just so sad pic.twitter.com/uWHBiltLnc

— Jack Reeve (@JackReeveTNC) October 29, 2018