Suryakumar Yadav has played only five international innings so far. But the way he is batting, it looks like he is already 100 ODI innings old. He's nerve-less, decisive and crisp in his stroke-play, calm and confident in his batting. Most importantly he plays at a strike rate of more than a run-a-ball which is a necessity in this modern age of cricket. 
Having made his debut when already past 30 has meant, perhaps, that Yadav might not have the same length of international cricket to look forward to that the Prithvi Shaws and Ishan Kishan's have. But it also means he's come into international cricket with a greater understanding of his game.
SKY made his T20I debut against England in the 2nd match in March this year. But he did not get the opportunity to bat. He was dropped in the next match to make way for Rohit in the team. But he made an immediate impact in the next game where he hit his first ball in international cricket for a six. He went on to play a Man of The Match winning innings for his country.
Now, in his return to the squad and in his maiden ODI series, he won the player of the series award for his consistent performances. India lost the third ODI. However, India clinched the series against Sri Lanka 2-1.
"Obviously, everyone dreams of playing for India. It has been a lot of effort, a lot of grind, a lot of patience behind this," Yadav said after the third ODI against Sri Lanka. "It has been worth the wait, and I'm really happy about it. From here on, how I build it is all in my hands. I'm really excited for the journey ahead."
Suryakumar Yadav credits return to Mumbai Indians as a turning point. 
SKY always has been a batter with plenty of sparkle. He played a crucial finishing role for his former IPL side KKR. But he pinpointed returning to Mumbai Indians in 2018 as the turning point, after which his game has gone to a new level.
It can be evidently seen by his numbers too. Since the 2018-19 season, Yadav has averaged 55.56 in List A cricket, at a strike rate of 131.88. In T20 cricket, his average has been 37.60 at a strike rate of 147.30.
"I've always been batting the same way as I am now," Yadav said. "But yes, after I came to Mumbai Indians in 2018, things started changing a bit. I got to know what my responsibility is, how do I go about my game, how can I take it one step ahead," SKY said.
Disappointed that I could not convert my starts into a big score: Suryakumar Yadav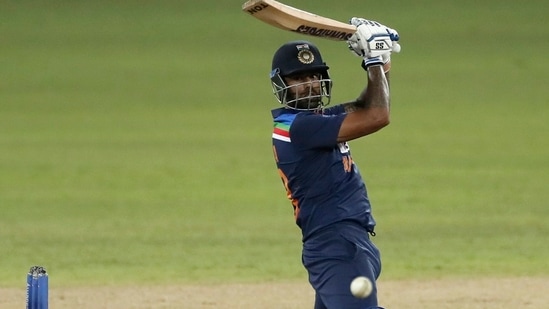 Yadav's scores in the ODIs, 31*, 53, and 40 – all scored at better than a run-a-ball point to how quickly he got into the groove. Although, he did express disappointment at not carrying on in the second and third games.
He was looking in command during the second game, steering India's chase after half the side had been out. But one moment of indecision meant he was trapped in front. While India won that match on the back of Deepak Chahar's heroics with the bat, Yadav's fall in the third ODI meant there was no similar recovery as the Indian team was completely new for the 3rd ODI.
Even when India fields a full-strength team, he's in serious contention to be part of it, whether in ODIs or T20Is. He will be a key player for India in the World Cup in UAE given how effortlessly he plays spin. From here on, only sky's the limit for SKY!
Do you want to play Casino games online? Click here to find a range of online casino brands
Place your bets for the matches here.
If you like reading about MMA, make sure you check out MMAIndia.com
Also, follow India's biggest arm wrestling tournament at ProPanja.com
To bet on sports, click here
Also Read: