Veteran Indian off-spinner Ravichandran Ashwin clarified his stance on relaxing the 15-degree rule. On Thursday, the modern-day legend said that he would never ask the International Cricket Council (ICC) to relax this rule in order to help spin bowlers bowl the 'Doosra'.
Current regulations of the International Cricket Council (ICC) have set the legal limit of 15 degrees of permissible straightening of the elbow joint for all bowlers in international cricket. This law applies between the point at which the bowling arm passes above shoulder height and the point at which the bowler releases the ball. The limit is to allow some natural flexing of the elbow joint which happens during the course of legal delivery.
After Muttiah Muralitharan was called for throwing in 1995, the controversy regarding his action resulted in changes to the laws of cricket.  Hence, in high-level play, this 15-degree standard effectively limits the issue to the actions of bowlers making a Doosra off-spin delivery, and very young fast bowlers who have had insufficient coaching to prevent going past 15 degrees.
Ashwin had to clear the air as some media outlets were showing the off-spinner's YouTube channel where he allegedly said that he wants the ICC to relax this rule. But the 34-year old took to Twitter in order to clarify his stance.
While on Twitter, Ashwin replied to an article: "Really?? Pls, don't carry the wrong stuff!! I will never say such a thing. "
Tweet of Ravichandran Ashwin:
Really?? Pls don't carry wrong stuff!! I will never say such a thing.

— Mask up and take your vaccine🙏🙏🇮🇳 (@ashwinravi99) June 10, 2021
In another tweet, the 34-year old commented: " Wrong wrong wrong!! My channel is done for all the right reasons and audience to know cricket better. If you can't get such basic stuff right in translation, pls don't carry such poor news."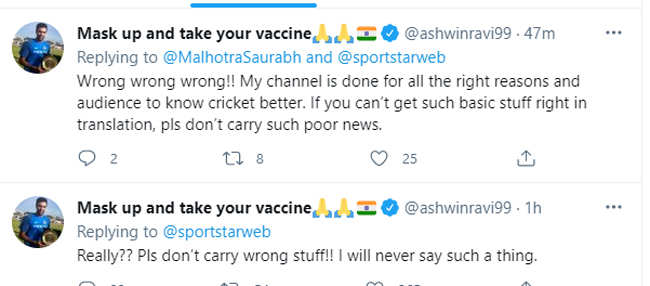 Ravi Ashwin is India's fourth-highest wicket-taker in the tests. He has 409 wickets in 78 Tests at an average of 24.69, including 30 five-wicket hauls and seven 10-wicket hauls. He is currently the no. 2 bowler in Tests according to ICC Rankings. The 34-year old has lost his place in India's white-ball squad after the Champions Trophy Final against Pakistan in 2017.
Currently, Ashwin is in England preparing for the World Test Championship Final against New Zealand on 18 June in Southampton. He will have a crucial role to play as New Zealand have a lot of left-handers in their line-up. Ashwin's record against left-handers is exceptional in Tests.
Do you want to play Casino games online? Click here to find a range of online casino brands
Place your bets for the matches here.
If you like reading about MMA, make sure you check out MMAIndia.com
Also, follow India's biggest arm wrestling tournament at ProPanja.com
To bet on sports, click here
ALSO READ : BCCI announce squads for Sri Lanka tour; Shikhar Dhawan to lead the side