Mary Kom's personal coach Chhote Lal Yadav has pulled out of the national boxing camp after testing positive for COVID-19, which will leave the Olympic medallist by herself at the camp which is slated to start this week in Pune.
Despite testing negative for COVID in the previous week, Yadav revealed that the second test results this week revealed that he has contracted the virus and is currently undergoing a 15 day quarantine at the Jawaharlal Nehru Stadium in New Delhi.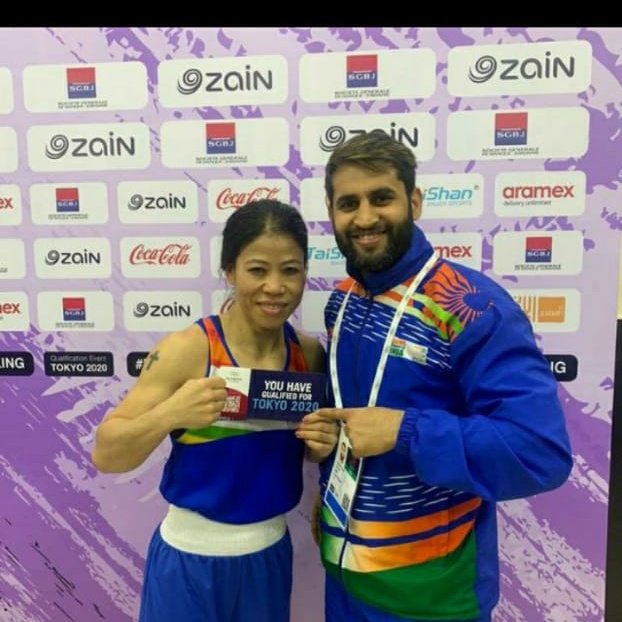 "It is a difficult situation. Last week my Covid-19 report was negative. Since then I haven't interacted with anyone but my Wednesday's Covid-19 test revealed that I'm positive," Yadav said in an interview with IANS.
"I was supposed to join the national camp in Pune. But after the positive report, I can't go. I'm alright but will have to follow the Covid-19 protocols laid down by Sports Authority of India (SAI)," the coach added.
Despite not being present in the camp in person, Yadav stated that he will remain in contact with Mary, who has reached Pune on Thursday and will guide the pugilist on how to maintain her fitness during the week-long mandatory quarantine period.
The 2021 Asian Boxing Championships, which was slated to be hosted from 21st to 31st May at the Indira Gandhi Indoor Stadium in the national capital, has now been shifted to Dubai due to the alarming rise of COVID-19 cases in the country as well as New Delhi, which itself has seen over 20,000 daily positive cases.
The Indian women team at the championship will comprise of 10 boxers. Mary Kom, along with her fellow Olympic-bound boxers such as Simranjit Kaur (60 kg), Lovlina Borgohain (69 kg) and Pooja Rani (75 kg) were granted automatic qualification to the tournament, while Sakshi Chaudhary (54kg), Monica (48kg), Jasmine (57 kg), Pwilao Basumatary (64kg), Sweety Bora (81 kg), and Anupama (plus 81kg) were selected through the selection trials hosted by the Boxing Federation of India (BFI) back in early April in New Delhi in non-Olympic weight categories.
Do you want to play Casino games online? Click here to find a range of online casino brands
Place your bets for the matches here.
If you like reading about MMA, make sure you check out MMAIndia.com
Also, follow India's biggest arm wrestling tournament at ProPanja.com
To bet on sports, click here