Eden Hazard is probably the best forward in the Premier League right now and his stunner against Liverpool last night in the Carabao Cup just validated the point.
Liverpool were enjoying a winning streak from the start of the season and it all came to an end at the behest of Hazard.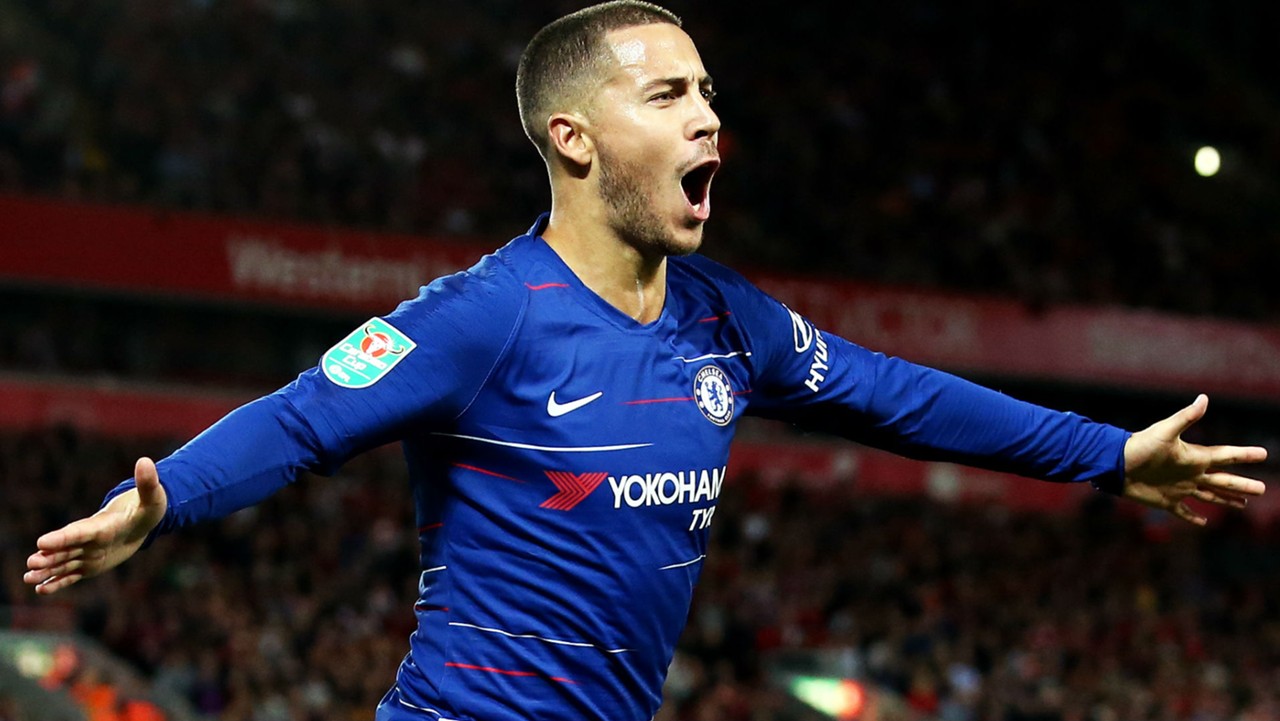 The latest addition to the FIFPro World XI, the Belgian dribbled past three Liverpool players to shoot the ball in the far post of his fellow Belgian national team-mate Simon Mignolet in the 86th minute.
Here's the goal:
You need to see that @hazardeden10 goal from all angles! 🔥 pic.twitter.com/Ucmq7I4RCA

— Chelsea FC (@ChelseaFC) September 27, 2018
Twitter users lost their mind when Hazard scored the goal against Liverpool and here's a glimpse of some of the best tweets from fans and former footballers:
Magic, @hazardeden10 ✨ pic.twitter.com/LIWLPKYCyz

— B/R Football (@brfootball) September 26, 2018
Eden Hazard

What. A. Player

— Aysha Ridzuan (@ayshardzn) September 27, 2018
At least Liverpool fans have finally got a chance to see a goal *worthy* of winning the Puskas Award. #Hazard #CFC

— Robin Bairner (@RBairner) September 26, 2018
REPORT: A goal-of-the-season contender from Eden Hazard gave Chelsea a 2-1 comeback win over Liverpool in the Carabao Cup third round at Anfield.

📲 https://t.co/TpBVIyM1Zh pic.twitter.com/0U5CNa6nOi

— Sky Sports Football (@SkyFootball) September 26, 2018
Just give Hazard what ever he wants #cfc

— Bryan (@middleoftheshed) September 26, 2018
Hazard asked by Sky what went through his mind for the goal: "I spoke with N'Golo on the bench & he told me he didn't want to take a penalty, so the only solution was to score!" #cfc

— Liam Twomey (@liam_twomey) September 26, 2018
Emerson with his first goal for Chelsea, Eden Hazard with his 95th goal for the club! #CFC

— CarefreeYouth (@CarefreeYouth) September 26, 2018
Jamie Carragher (Ex Liverpool player & life long Liverpool fan)

"Eden Hazard was the BEST player at the World Cup and the BEST player in the Premier league"

Don't ever compare Salah to the goat again..

— . (@OfficialCheIs) September 26, 2018
If Salah could win Puskas for that shit goal against Everton, this Hazard goal deserves a Puskas too. Because it's even better

— Mr. Jack Robinson (@jackdre02) September 26, 2018
Chelsea have won at Anfield in any competition for the first time since November 2014.

Eden Hazard's solo goal seals it in style. 🔥 pic.twitter.com/Vw1ihst2c5

— Squawka Football (@Squawka) September 26, 2018
EDEN HAZARD YOU BEAUTIFUL MAN 😍 #CFC #LIVCHE pic.twitter.com/OdiR2roTZi

— Cam (@Cam_Watters) September 26, 2018
Great to go through to the next round. What a goal to win the game from @hazardeden10 .
Well done lads 🙌👌. pic.twitter.com/rxzBakixkm

— Gary Cahill (@GaryJCahill) September 26, 2018
Hazard came on and literally took the piss out of us for 20 minutes. Sound.

— Matthew Ordish (@MattOrdish) September 26, 2018
What a win last night. Half the team didn't play at all this season yet showed great spirit and determination. Played in a new position and 150 start for @chelseafc
What a goal from this brilliant player @hazardeden10 more of it Saturday guys please. 🙏🏻💪🏻 pic.twitter.com/D4AADDFpYe

— Cesc Fàbregas Soler (@cesc4official) September 27, 2018
After nutmegging Roberto Firmino in the build-up, Hazard swapped passes with Cesar Azpilicueta, cut inside off the right, dashed past a static defence and lashed an unstoppable drive across Simon Mignolet.

King @hazardeden10 🔥🔥 pic.twitter.com/6vhBQ2CTO5

— Elijah Kuria (@Elijah97Kuria) September 27, 2018
Read Also: