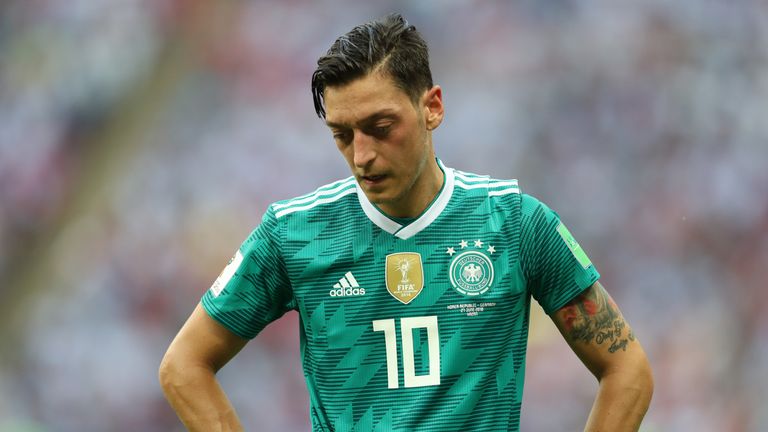 After Germany's humiliating departure from the World Cup, Mesut Ozil was heavily criticized as he failed to perform just like his several other team-mates.
The Arsenal midfielder received a lot of flak after his meeting with Turkey President Recep Tayyip Erdogan in May when he and Ilkay Gundogan posed for a photo with the Turkish president during his visit to London.
He also stated that he was the recipient of racial abuse from German fans and the DFB President Reinhard Grindel.
Thus, the 29-year-old ends his international career having won 92 caps for Germany along with 23 goals.
He announced his decision to retire on Twitter and this is what he wrote:
"It is with a heavy heart and after much consideration that because of recent events, I will no longer be playing for Germany at international level whilst I have this feeling of racism and disrespect."
"I used to wear the German shirt with such pride and excitement, but now I don't."
Ozil's official tweet:
III / III pic.twitter.com/c8aTzYOhWU

— Mesut Özil (@MesutOzil1088) July 22, 2018
Here's how the Twitterati reacted: 
#MondayMotivation #WorldCup #ozilRetires #Ozil
I feel very sad for Ozil pic.twitter.com/3rK9vzgv8N

— SylviaPaschaline (@Sylvia4life) July 23, 2018
If only Ozil had saved a baby from a building while simultaneously being one of their best football players

— Joey Ayoub جووي أيوب (@joeyayoub) July 22, 2018
The world hasn't evolved that much since then. Or has it? #Ozil #ozilRetires pic.twitter.com/iy3QP24Bx6

— John Huang (@Huang_John17) July 23, 2018
Mesut Ozil: "I am German when we win, but I am an immigrant when we lose. Racism should never, ever be accepted."
Hitting the nail on the fricking head. pic.twitter.com/T0agE7s6ds

— Dylan Walsh (@dylanwalsh_) July 22, 2018
Ozil announces international retirement due to 'racism and disrespect' 💔💔
The way Ozil has been treated by German media, politicians and especially the DFB has caused him to make the difficult decision to announce his international retirement😥#ozilRetires

— Vaibhav hatwal (@vaibhav_hatwal) July 23, 2018
Mesut Ozil scored 23 goals and assisted another 40 in 92 games for Germany. The 2014 World Cup winner was voted 5 times German player of the year.

He will be remembered for exposing the racism in German FA and change German football for good. #StandWithOzil pic.twitter.com/psiJcGe8rV

— Guardiolista (@Guardiolista07) July 23, 2018
The media villifying Ozil just goes to show how immigrants almost need to keep earning their citizenship long after they have it.
These countries only assimilate you as long as you bring honour.

— Tugen Girl (@tugengirl) July 22, 2018
What really makes this so stupid is that the bigots win. They've finally gotten rid of Ozil. Him being in that team was so irritating to them and their conception of German identity, and now he's been forced to retire because the environment has become unbearable.

— Zito (@_Zeets) July 22, 2018
"My friends Lukas Podolski and Miroslav Klose are never referred to as German-Polish so why am I German-Turkish? Is it because it's Turkey? Is it because I'm a Muslim?" – Mesut #Ozil

Shame on you Germans pic.twitter.com/N8N5MwSxjf

— 🆎 (@Messician_17) July 22, 2018
In the end, Ozil is the greatest ever German midfielder whether or not the Germans want to accept him as German or not. They will never ever be able to replace him.

— The Dreamers (@KozielloEN) July 22, 2018
"I will not sit back and do nothing about it. Racism should never, ever be accepted."

Mesut Ozil says he will "no longer be playing for Germany" after discrimination and racism: https://t.co/vSw4KCjj84 pic.twitter.com/dAD9OtEhbO

— Sky Sports Football (@SkyFootball) July 22, 2018
"During my childhood, my mother taught me to always be respectful and to never forget where I came from."

Mesut Ozil has responded to criticism after he posed for photographs with the Turkish president.

More: https://t.co/YcNBhBKeFS pic.twitter.com/b706aUG0VB

— BBC Sport (@BBCSport) July 22, 2018
I am glad Mesut Ozil has brought the hypocrisy of the German FA to the attention of the entire world .

Thank you Ozil!!

— woozzaabets (@woozzaabets) July 22, 2018
Can't wait for part three of Mesut Ozil's statement. pic.twitter.com/u9baOsLgUk

— Ronan Murphy (@swearimnotpaul) July 22, 2018
Mesut Ozil needs our support more than ever and he's gonna get it. pic.twitter.com/MLV3htDWK7

— Dammit Arsenal🤦 (@DammitArsenal) July 22, 2018
Shame on the DFB president and all those that have played a part in the Ozil/Erdogan saga, including the fans. A big shame.

— 'theLateSurge' (@daMuuch) July 22, 2018
Özil has just announced his retirement from the German National Team.

Congratulations to all the people who have bullied him in to this decision.

Congratulations to those who said he was the reason for a bad German World Cup.

Thanx @MesutOzil1088 for a great career for Germany

— Jan Aage Fjortoft (@JanAageFjortoft) July 22, 2018
Read also: 
Football: Neymar says he couldn't look at a football after the World Cup