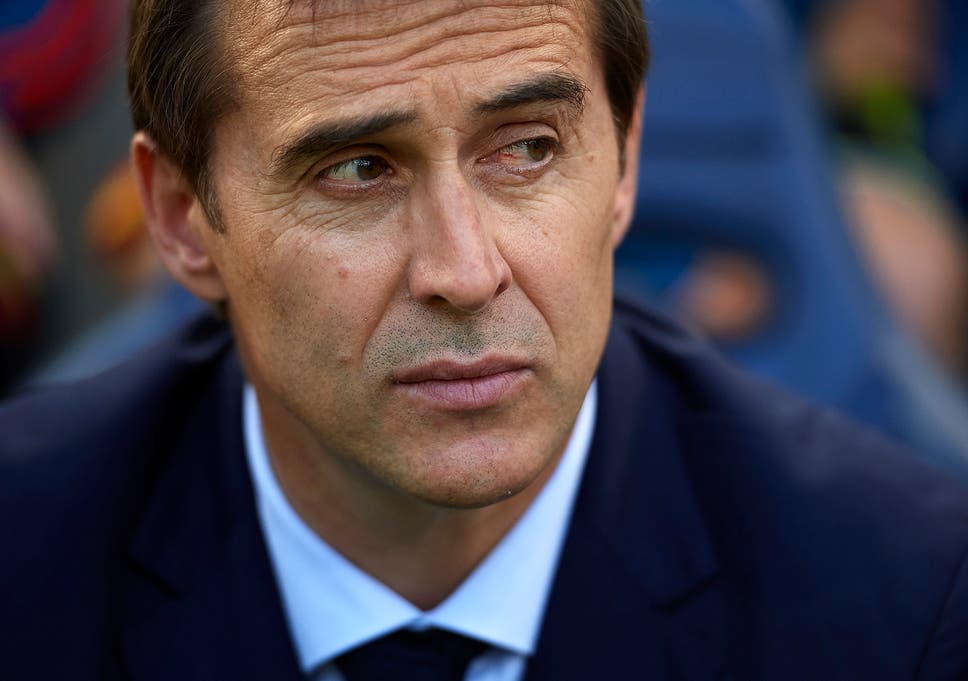 (photo credits: Getty Images)
In a shocking state of affairs, Julen Lopetegui has been officially sacked by the Spanish national football team, a day after he was appointed as the new Real Madrid manager after Zinedine Zidane's departure. In his stead, they have appointed 50 year old Fernando Hierro as the new manager who was previously the RFEF's Sporting Director.
Spain will play their first World Cup match on Friday, June 16 against Portugal at 23:30 IST.
Advertisement
Now, let's take a look at what the Twitterati had to say:
First, the official tweet.
🗣 @LuisRubiales: "Nos hemos visto obligados a prescindir del seleccionador nacional. Le deseamos la mayor de las suertes. Lo que consiga la @SeFutbol, tendrá que ver con el trabajo que ha desarrollado" https://t.co/Jyxqb81K23

— RFEF (@rfef) June 13, 2018
It didn't take long for the fire to spread.
When you hear Spain have sacked Julen Lopetegui… 🇪🇸 🏆 pic.twitter.com/38ogH6JppX

— SportsJOE (@SportsJOE_UK) June 13, 2018
LIVE SCENE: Julien Lopetegui lands to Russia and 🛬🛫 #WorldCup2018 pic.twitter.com/hNMcjzyPcn

— Mordis Gööner (@ISaamiu) June 13, 2018
Can't wait for every single stadium in Spain to whistle Lopetegui

— AtléticoFans (@AtleticoFans) June 13, 2018
Mourinho, Conte, Guardiola, Rio Ferdinand, Harry Kane, Unai Emery & Zlatan react to the news that Spain head coach Julen Lopetegui has been sacked on the eve of the World Cup! 🇪🇸#WorldCup #Spain pic.twitter.com/PS3BC79dL3

— Al Foran (@ImpressionistAL) June 13, 2018
Exclusive footage of Julen Lopetegui in Russia pic.twitter.com/beyC9XHmW3

— #FPL Secrets (@FPLSecrets) June 13, 2018
Manchester United bribed Spain's FA to sack Julen Lopetegui so he won't spend a month convincing De Gea to come to Real Madrid pic.twitter.com/tJQlNZDaIp

— Omoniyi Israel (@omoissy) June 13, 2018
Portugal's chances of a win on Friday night have improved. For the Spanish FA to sack Julen Lopetegui seems a drastically late measure.

— Jim Beglin (@jimbeglin) June 13, 2018
Nobody thought about that! #Lopetegui signs with #RealMadrid and is sacked a day later as national coach! Incredible! #WC2018

— Bodo Illgner (@Bodo_Illgner) June 13, 2018
One thing made very plain by this Lopetegui/Spain saga, right down to "confirming" Celades as the new manager, is that 'the media' very often does not have a clue. (And yes, I say that as a member of 'the media'.)

— Andy West (@andywest01) June 13, 2018
Lopetegui: The reign with Spain stays mainly on the plane.

— Gary Lineker (@GaryLineker) June 13, 2018
Probably an unpopular take but… I dig the Spanish federation making a stand on Lopetegui. Real Madrid made a woefully-timed, vulgar display of power and RFEF probably felt the players, esp the non-Madrid ones, deserved better at this pivotal moment.

— Charles Boehm (@cboehm) June 13, 2018
It's an awkward decision whichever way you look at it… what do you feel about it? Was RFEF right to stick to their policies and sack their manager a day before the biggest football event on the planet?
Let us know in the comments below.
Also Read: Football : USA, Canada and Mexico to co-host FIFA World Cup 2026
FIFA World Cup 2018: 10 Players that are likely to set the tournament alight
FIFA WC 2018: One Day To The WC And Julen Lopetegui Has Been Sacked As                    Spain's Manager