The English cricket team is set to travel to Australia to take part in the Five Test series that is to take place in Brisbane, but the uncertainty remains whether England will bring its full contingent to the event after Australia's Prime Minister says that England will not be given any special favours. The event is scheduled to begin on December 8. Scott Morrison does not want to grand the cricketers and their families special amenities because this might trigger an outcry from the countless Australians that are unable to come back home due to strict border protocols.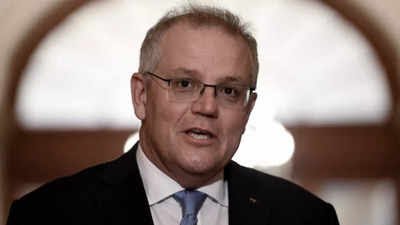 Scott met with the British Prime Minister Boris Johnson to discuss the issue and during their meeting, Scott was very clear about his position and what he can give offer to the English squad while they come for the Ashes.
"There's no special deals there, because what we're looking to have is vaccinated people being able to travel."
Scott does not see how the cricketers family can be different from people that coming to the country for studies or work. Since they are not given any special treatment, it would be unfair to give the same to cricketers.
Players may not want to spend Christmas away from their families: Scott Morrison
But Boris did tell the media that Scott will try his best for the team and find a solution to the problem. It is not an issue with the younger players but with players that have a family and kids. Since the event is scheduled in December, players are not willing to leave their family for so long during Christmas. The situation might force some of the players to back out of the event.
"The cricketers, it's very tough to be away from their families for so long over Christmas. He merely undertook to go away and come back with a solution."
The international borders is set to open up once 80 percent of the population is vaccinated, but the figure is still stuck at 50, so it may take a few more months or maybe a year for border rules to relax and international travelling to be a thing again.
Do you want to play Casino games online? Click here to find a range of online casino brands
Place your bets for the matches here.
If you like reading about MMA, make sure you check out MMAIndia.com
Also, follow India's biggest arm wrestling tournament at ProPanja.com
To bet on sports, click here