Ravi Kumar, whose father is currently serving in Odisha's Maoist-affected Rayagada district at the CRPF camp, edged his name in the history books after the dismantled Bangladesh's top order which set India up perfectly for a victory and qualify for the semi-finals. The left-arm seamer's opening spell of 5-1-5-3 broke the back of the Bangladeshi side as they collapsed for a mere 111 runs. With this victory, India took their long-lasting revenge after getting beaten by the same opposition in the last edition.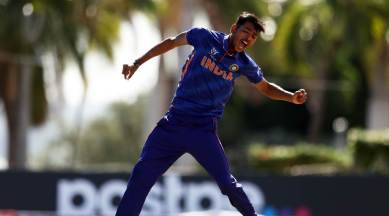 However, the journey for the man of the moment Ravi Kumar wasn't easy. Hailing from a humble background, His mother was worried about her son playing cricket all the time and wanted him to focus on academics and earn a degree. Ravi, unperturbed, would tell her: "Aaj aap mujhe rok rahi hai, ek din aisa aayega ki aap mujhe TV pe dekhoge (Today, you are stopping me but there will come a day when you will see me on TV)." 
Now, all the talk in the CRPF camp is about Rajinder and his son Ravi. All the officers have called and congratulated me, I don't have many words to express my happiness," an emotional Rajinder told The Indian Express.
Rajinder admits that there were times when he, too, was worried about his son's future. "I don't have money and resources to make him play for India," he says.
But then, seeing Ravi's drive and commitment, he told him: "If you have the 'dum', you will play for India." 
Ravi Kumar shifted to Kolkata to pursue his dreams
Realizing that his prospects of progress were bleak if he stayed in UP, Ravi called his father after selection trials in Kanpur and told him he had heard talk about bribes for a place in the state's U-16 squad.
Rajinder knew that was beyond his modest salary and savings. But the breakthrough moment came when a neighbor, who has a house in Kolkata, told Rajinder that Ravi could stay there and play. Then just 13, Ravi had no second thoughts and packed his bags. He started playing in the second division before quickly leaping to the first division.
However, Ravi faced his first obstacle at just 16 years of age when he was in a U-16 camp but his name was removed after some bone tests. He reveals that was not given a reason when he was removed.
Gradually, fortunes changed. Late last year, he was picked for Bengal's U-19 team for the Vinoo Mankad Trophy. His success earned him a place in the Challengers Trophy, a tri-series at home, and the Asia Cup.
Ravi reveals that he has just one wish now: "I want people to follow me and say 'we have to be like him." He knows though that this dream journey has only begun, and there's still a long way to go. It won't be surprising if he fetches an IPL deal for the upcoming season.
Highlights:
• Ravi Kumar's match-winning opening spell guides India to the semi-finals.
• Ravi's father, Rajinder who serves in the CRPF expresses happiness due to his son's success.
ALSO READ: IPL 2022: BCCI is reportedly planning to conduct league stage in Maharashtra