Back in 2008, the movie "Chak de India" revitalized India's love for hockey. But in real life, Indian hockey was going through one of its darkest phases. The men's team failed to qualify for the Olympics which were held in Beijing in 2008. It was the first instance when the eight-time gold medalist couldn't make it to the mega event after their debut way back in 1928. On the other hand, the women's team wasn't even in contention to qualify for the Olympics.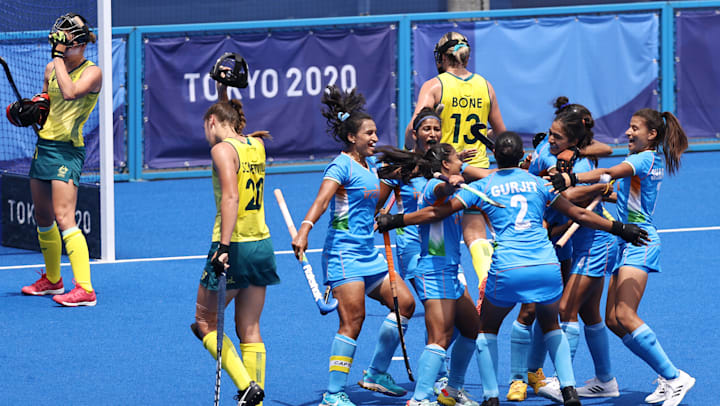 Fast forward to 2021 and the whole scenario has changed. Both men and women have stormed into the semi finals of the mega event.
Indian men's team will be eyeing their first gold medal since the 1980 Olympics. On the other hand, the Women's team will be looking to create history and win their first ever medal at the Olympics.
On Sunday, August 1, Manpreet Singh and Co qualified for their first semi-final in 49 years, beating Great Britain 3-1. Monday, August 2, the women's team played out of their skins and defeated hot favourites Australia and the table-toppers in Group B by 1-0.
Australia went into the quarter-final after beating Spain, Argentina, New Zealand, China and Japan with relative ease. But in the knockout game, they couldn't break India's resilience. Drag-flicker Gurjit Kaur converted India's only penalty corner in the 22nd minute to give her team the much-needed lead. India were able to play out goalless quarters in the third and fourth quarters.
Rani Rampal's troops did not succumb under pressure. The World No.2 team Australia could not withstand the toughness of the Indian Women's team. In the semi-final on Wednesday, August 4, India will go head-to-head with Belgium.
ALSO READ: Tokyo Olympics: PV Sindhu wins bronze, defeats He Bingjiao via straight sets
Cricket fraternity congratulates Indian Women's hockey team for making it into the Semi-finals: 
Our girls have created history.
Beaten #AUS in the quarter-final match of women's #hockey by 1-0 to seal their spot in SEMI-FINAL for the first time ever! Best wishes for the semis. #Tokyo2020 pic.twitter.com/iZj3H4GPs8

— VVS Laxman (@VVSLaxman281) August 2, 2021
QF⏩SF🇮🇳🙌🏻
🎵चुटकी कोई काटो न है हम तो होश में
क़दमों को थामो यह है उड़ते जोश में
बादल पे पाँव है, या छूटा गाँव है
अब तो भई चल पड़ी अपनी यह नाव है🎵
History in Tokyo!! Congratulations Indian women's team!! So so proud🇮🇳👏🏻 #GoForGold #Teamindia #Tokyo2020 #Olympics pic.twitter.com/flzwzF2iPh

— Wasim Jaffer (@WasimJaffer14) August 2, 2021
Seems appropriate to tweet this right now. Chak de! India #Hockey #Tokyo2020 pic.twitter.com/Z1g0OPpqsw

— Lisa Sthalekar (@sthalekar93) August 2, 2021
Itni khushi shayad kisi jeet par mehsoos huyi hogi!
Absolute Wow moment. First ever Olympics hockey semi-finals for our girls. Filled with pride.
Chak De India #Hockey pic.twitter.com/c9I5KZFaZ5

— Virender Sehwag (@virendersehwag) August 2, 2021
जननी जन्मभूमिश्च स्वर्गदपि गरीयसी।
The pride our girls have given us in the greatest sporting event and filled us with so much happiness is unbelievable.
After Mirabai, Lovlina, Sindhu ,now the #Hockey team has made us so proud.
Looking forward to Kamalpreet in dicus throw final pic.twitter.com/vHUCe5fvRd

— Venkatesh Prasad (@venkateshprasad) August 2, 2021
Well done to our girls they did their best and congratulations to India, good luck 👍 https://t.co/BddvYlofME

— David Warner (@davidwarner31) August 2, 2021
What a wonderful victory !! 👏

The #Ind women's #Hockey team make their way into the semi's for the first time ever.

An unbelievable and powerful match played by the women of our country, we are proud of you! 💪

Way to go!! Jai Hind!🇮🇳 #Tokyo2020 #IndianHockey #Olympics pic.twitter.com/Cd2wTK3w6s

— Ishant Sharma (@ImIshant) August 2, 2021