Eleven people have been arrested by the Staffordshire Police following a chaotic incident at the local derby between Port Vale and Stoke City on Tuesday night.
Staffordshire Police said "considerable damage" was caused to sections of the away stand at Vale Park, with seats, toilets and windows all left broken during the Checkatrade Trophy match.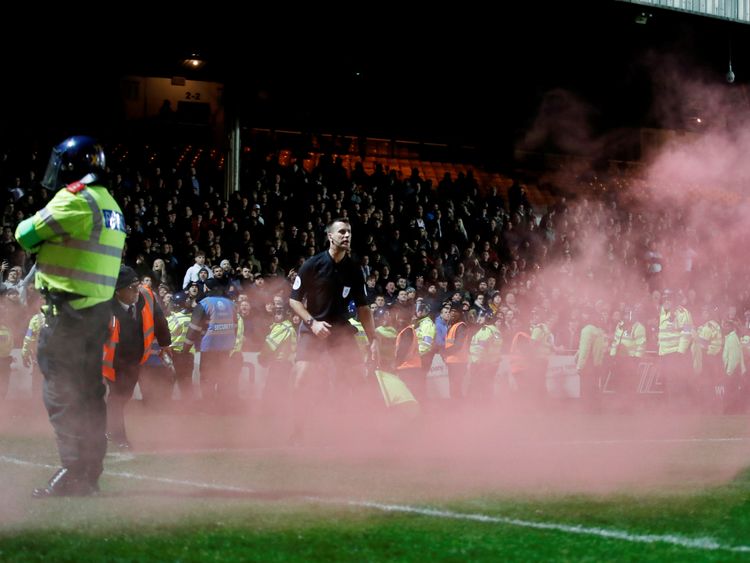 As confirmed by the Police, 11 people aged between 18 and 61, were arrested for a mixture of public order and violence offences.
More than 150 officers were deployed and used public order tactics in a bid to restore peace but were attacked with coins and flares thrown from the terraces in response.
Chief Superintendent Wayne Jones condemned the "despicable behaviour" shown by a "large number of fans" in attendance
"We are taking this very seriously and I expect there to be more arrests in the coming days as we examine CCTV coverage and gather evidence of the crimes committed," he said
"My officers have shown bravery and dedication tonight and the support from stewards and partners has been first class in ensuring that those intent on fighting each other were unable to do so.
"This kind of behaviour is not acceptable and I would like to reassure you that we will do all we can to bring those responsible to justice."
Port Vale supporters' club chairman Mark Porter told Stoke On Trent Live: "It was absolutely appalling. Some of the away fans clearly came simply to cause trouble. They were throwing bottles, lighters, coins, seats – you name it.
"Dozens of seats have been wrecked. They are an absolute disgrace to their club and should be banned."
Stoke and Port Vale share an intense rivalry, known as the Potteries derby, and their first teams last played a competitive match in 2002.
The match on Tuesday night finished 4-0 to Port Vale.