The T20 World Cup is just three months away and India are yet to figure out their perfect eleven. Due to India's massive bench strength, they will have to make some tough decisions. Meanwhile, former Australian cricketer Brad Hogg picked his ideal eleven for India for the T20 World Cup.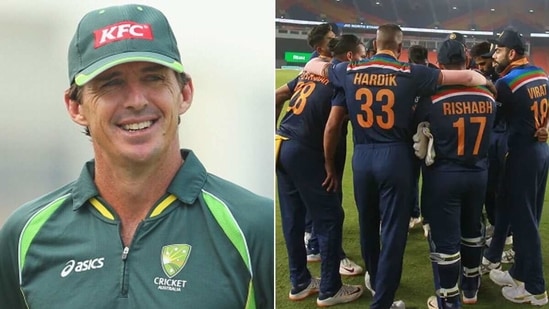 Brad Hogg shared India's playing eleven on his YouTube channel in the segment #HoggsVlog. 
While picking India's openers, he has left out some key names like Shikhar Dhawan and Kl Rahul. Hogg has named Rohit Sharma and Virat Kohli as openers. The explanation he gave is that he wants more attacking players in the middle order.
"I'm pretty tough on Dhawan but they need some more attacking players in the middle order. To do that they have to push Kohli to the top, " he said.
Suryakumar Yadav takes the number three spot in Hogg's team. He thinks his versatility is going to add a bit more spice to that batting lineup.
Brad Hogg leaves out Ishan Kishan as he doesn't want two new players in three and four
Talking about India's infamous number four spot, Hogg thinks this spot is wide open right now. A number of players are fighting for this position like Shreyas Iyer, Manish Pandey, Sanju Samson and Ishan Kishan. But according to Hogg, Kl Rahul is the prime runner for the spot.
"Coming to no.4, this is where spots are up for grab at the present moment as I see the Indian team. Iyer is injured and Manish Pandey hasn't got a good strike rate. Kl Rahul is the prime runner in that spot but he's not in Sri Lanka."
 "This gives an opportunity to Pandey and Ishan Kishan. If he dominates spin in middle overs in Sri Lanka he could find a way in that middle order. But in doing that you don't want to have two new players in three and four in a big tournament." said Hogg
Hogg picks Rishabh Pant as his wicket keeper batsman at five. But he wants Pant to be a floater. He said "If you lose a wicket in 7th over you're bringing him in there to dominate spin".
Hardik Pandya and Jadeja take the spots of 6 and 7 in Hogg's team. It is likely that they will play the role of a finisher. Also, it is yet to be seen if Hardik Pandya is fit to bowl or not.
There is a lot of competition for bowlers in the Indian team: Brad Hogg
While picking India's bowling, Hogg mentions that India will have a tough time selecting players as they have a lot of options.
According to Hogg, Kuldeep, Yuzi Chahal and Rahul Chahar would be fighting for the spot for a leg spinner in the side. The series against Sri Lanka will play a key role in their selection for all these bowlers. But at the moment, Hogg has picked Yuzi Chahal.
"Kuldeep has been a better performer over the last 3 years but he's lost form of late. If he can grasp form then having a left arm chinnaman in the world Cup will be a point of difference. But at the moment Chahal is the no. 1 spinner but that could change in Sri Lanka."
Mohammad Shami doesn't find a place in Hogg's side. He thinks Shami has been too expensive in powerplay and death overs. Hence, Shardul Thakur gets a spot ahead of him.
"Shami has been expensive in death and powerplay overs. I think Thakur will get an opportunity with his explosive batting at the back end but he has also been pretty good in the powerplay and death overs."
The duo of Bhuvi and Bumrah grab the final two positions in his team. We haven't seen Bhuvi and Bumrah play together since the ICC World Cup 2019.
Brad Hogg's XI : Rohit Sharma (vc), Virat Kohli (c), Suryakumar Yadav, Kl Rahul, Rishabh Pant (wk), Hardik Pandya, Ravindra Jadeja, Shardul Thakur, Bhuvneshwar Kumar, Jasprit Bumrah, Yuzvendra Chahal.