India vice-captain Ajinkya Rahane recently spoke about a number of issues. One of them was about India's lower-order batting. It is no secret that the Indian tail has been the worst-performing tail when it comes to adding crucial runs at the end. 
Indian tail lies in the bottom half of the highest-scoring tailenders when one considers their batting average in the last 5 years. Their average of 12.41 is only better than Sri Lanka (9.15) and Bangladesh (7.88) and lags far behind Pakistan (15.23) and even West Indies (14.38) when considering the major Test-playing countries.
Even in the WTC final, they were not able to put a price on their wicket. We should not expect them to perform like batsmen but the least they can do is not to throw away their wickets as they did in the final. In the first innings, India's last four wickets added only 35 runs. The second innings was even worse where they got only 28 runs.
Ajinkya claims that Indian bowlers are working hard on their batting so that they can add crucial runs at the end.
"(Jasprit) Bumrah , (Mohd) Shami, (Mohd) Siraj, Umesh (Yadav) and Ishant (Sharma) are putting in the effort in the nets. Whatever 20-30 runs we score in the end, matters a lot.
"It's good that they are wanting to bat for at least 10-12 minutes in the nets. See result comes later and what is important is process and working hard and contributing as a member of the team. We are hoping for some contributions from our tail-enders."
He also claims that his fellow Mumbai teammate Shardul Thakur can fill the void of a fast-bowling allrounder. "Shardul can bat. You have seen Shardul bat in Australia and he did well in domestic cricket as well," Rahane said about Thakur. Thakur, in his last test match, scored a match-winning half-century in the first innings and picked seven wickets in the Gabba Test match against Australia early this year.
Ajinkya Rahane acknowledges bubble fatigue and respects Ben Stokes' decision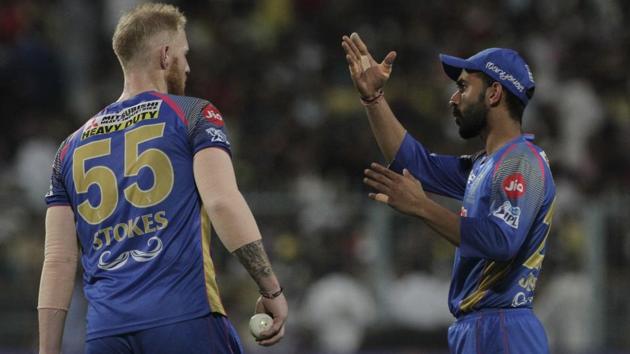 The Indian test team's vice-captain also gave his viewpoint on Ben Stokes. Stokes has pulled out of international cricket to focus on his mental health and recover from his finger injury.
While acknowledging how challenging the bubble life can be, Rahane also sympathizes with the decision of Ben Stokes.
"Bubble (life) is really challenging. You have got to understand a player's mindset as well. When you play at the highest level, you have to always give your hundred percent and your mental health matters a lot.
"We (Indian team) respect his decision and I am sure his England teammates also respect his decision. It's all about understanding players' mindset as to what he is going through. It is tough and challenging to be in a bubble continuously and perform," Rahane stated.
Place your bets for the matches here.
If you like reading about MMA, make sure you check out MMAIndia.com
Also, follow India's biggest arm wrestling tournament at ProPanja.com
To bet on sports, click here
ALSO READ: Tokyo Olympics: India's wrestling campaign begins with an ominous note as Sonam Malik loses opener