Aaron Finch and David Warner are currently one of the greatest opening pairs in international cricket. They have provided Australia with countless excellent starts in the white ball formats. Also, they played a crucial role in Australia's World Cup winning campaign in 2015. They continued their excellent performance in the 2019 World Cup as well. 
The Australian duo have 12 century partnerships in 70 innings. With an average of 52.72, Finch & Warner are the only pair in the top five apart from Greenidge & Haynes to average over 50 for the opening stand. In the 2019 World Cup, Finch and Warner became the first pair in world cricket to register 5 successive fifty-plus opening stands in a World Cup.
Recently on the "Players' Lounge Podcast", the Australian captain opened up on why he and David Warner are so successful.
"I think we compliment each other really well because of the left-right combination but we're also very very different. For me, when I get in early I am vulnerable to the full ball but I think I can score heavily on the full ball. Whereas Davey's heavily off the back foot. He can hurt you as soon as you get slightly short. You have to change your line and lengths. It has to be different and disciplined."
"I think we run pretty well between the wickets together so we can put pressure on oppositions in a couple of different ways," he said.
We are really honest and vulnerable with each other which is uncommon in international sport: Aaron Finch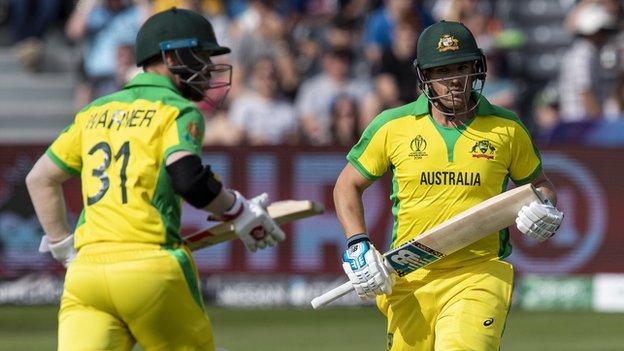 The Australian captain also revealed that he has known David Warner for almost 20 years. Hence, both of them can predict what the other is going to do and also they can be honest with one another.
"But having known each other for almost 20 years now, that helps in a partnership. You understand what they are thinking. You know what they're going to do before they've done it because you have been with him so many times that you can see how he's gripping the bat. I can see the look on his face and tell that he's about to play a certain shot so that sort of helps calm everything down."
"We are really honest and vulnerable with each other as a partnership which is uncommon in international sport. Being able to tell your partner that I don't fancy facing this guy at the moment. You take him and let's not take a quick single because I don't back myself getting through Trent Boult for example who swings it back on the front pad. It's just strange how it works like that," he added.
Finch and Warner haven't been opening together since the ODI series against India late last year. But they are the expected openers for Australia in the upcoming T20 World Cup in UAE.